This manual describes next step after selecting terminal boot way. If you've not selected WTware boot way yet and haven't started the terminal read the manual about WTware boot.
At first terminal start from local disk (from USB flash, SD card, hard disk) you'll see such screen:
You should tell terminal, where it's configuration file is stored. By default terminal is configured to store configuration file on local disk. It's convenient for first tests. Select menu item "Edit configuration file" and in editor write one line:
server=192.168.1.1
Instead of 192.168.1.1 specify your terminal server IP-address. Save configuration file, specify terminal IP-address, Exit menu by Esc and, if you're lucky, terminal will connect to terminal server. If not and there isn't image on the screen, read video configuration manual.
To enter this menu again, restart and press Del at the beginning.
Best practice is to store configuration files on server and load them by network. In this case you can edit configuration files using our great graphic configurator. They will backup with all server data. User won't be able to change them. Even for terminals from another city we recommend to use VPN and store configuration files centralized. WTware saves to cache received by network configuration and will start even if VPN channel to central server will crash.
Terminals, that boot by network, always download configuration files by network.
At first start terminal, configured to receive configuration by network, shows such screen: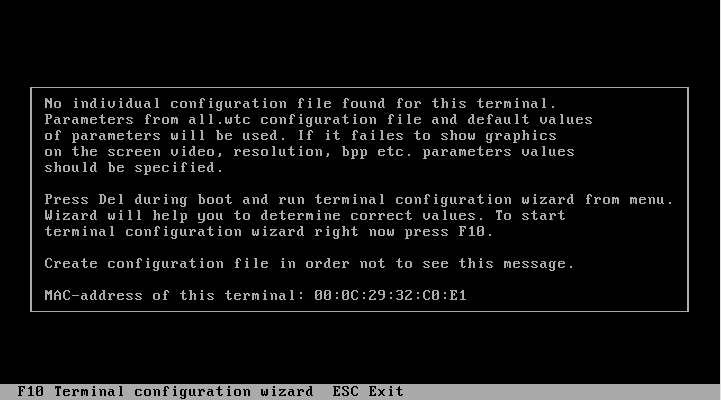 You can specify terminal settings using "Terminal configuration wizard". Main wizard screen is:
Select terminal video settings and press "Continue with these settings". Appears screen: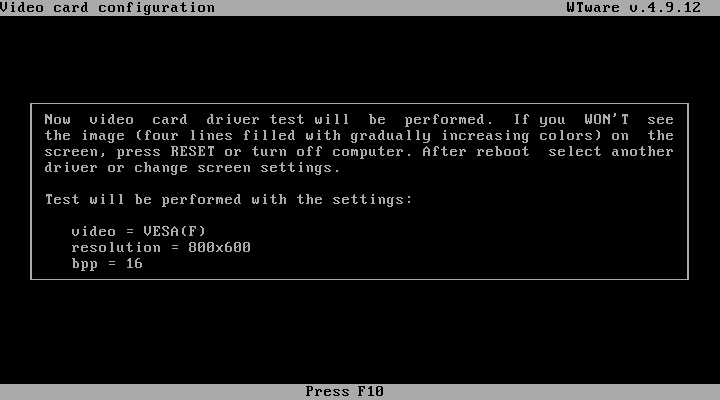 Press F10. Terminal video test starts. Successfull test looks so:
The smaller time - the faster terminal works in this mode with this driver.
en
When you determined optimal video parameters for your terminal press F10 and connect to terminal server. Then you'll be able to save settings in terminal configuration file. And WTware will help you. Screen to specify terminal server address: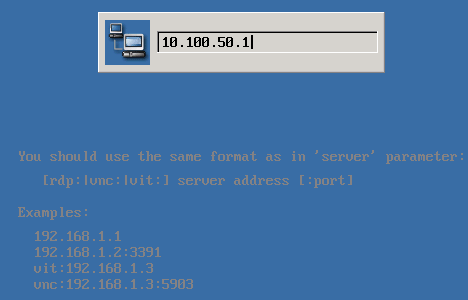 When terminal connects to terminal server in popup screen in right bottom corner you'll see selected in wizard terminal parameters: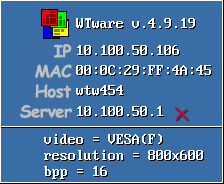 Also if you use configurator to edit terminal configurations run it after terminal boots on terminal server. After terminal wizard work WTware configurator at start suggests to create terminal configuration file and save there selected settings:

After saving settings terminal configuration wizard won't run during boot anymore. If you want to run it later to select better settings, press Del during terminal boot and select menu item: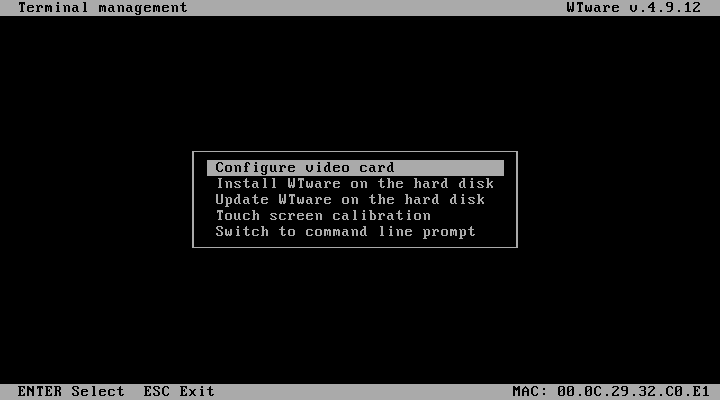 To be continued
Configuration file parameters manage terminal disks and printers using, login menu configuration, desktop background etc. Full parameter list and their descriptions are available at the next article.
If you have any comments or remarks to this article, please,
let us know
!