WTware licensing generator manual
WTware licensing generator manual is a special web-service that generates WTware licenses. It's purpose is to avoid delays in obtaining paid WTware licenses.
WTware generator releases licenses valid for WTware 4.1.0 and later. Please, read WTware licensing terms before using generator.
Generator address, login and password we send by e-mail after receiving payment. Main generator screen looks so: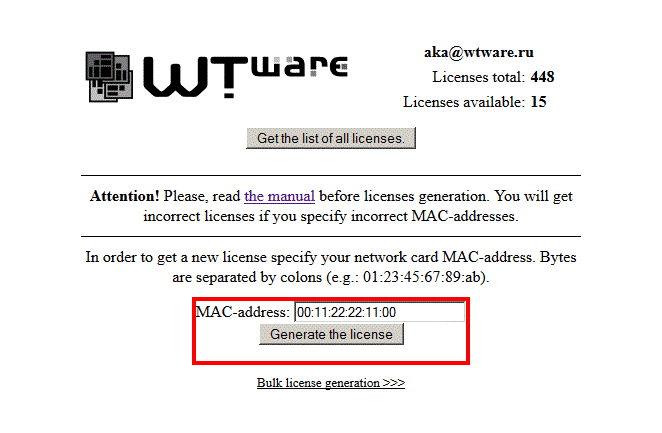 Instead of aka@wtware.ru should be specified contact email. In upper right part you can see amout of available licenses, that are not generated yet.
Button "Get the list of all licenses" create single file wtware.lic, containing all generated earlier licenses.
Generator input field is marked by red. Here you should specify MAC-address of the terminal you need lisense for. Please, be extremely attentive when specifying MAC-address! How to determine correct terminal MAC-address is described in Wtware licensing terms article.
That's the result of pressing "Generate the license" button: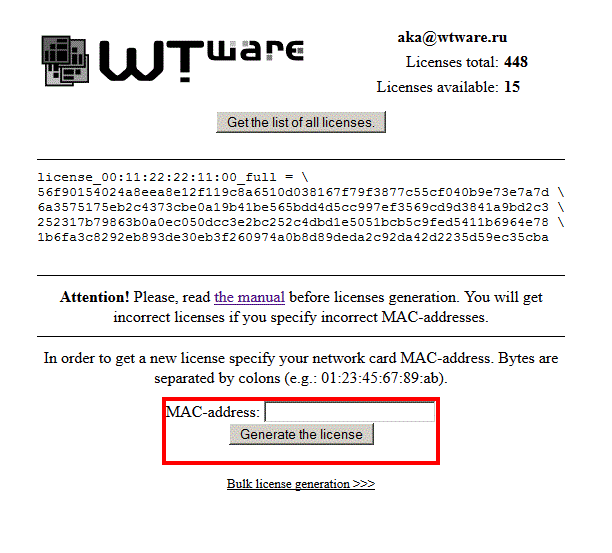 License is five lines:
license_00:11:22:22:11:00_full = \
56f90154024a8eea8e12f119c8a6510d038167f79f3877c55cf040b9e73e7a7d \
6a3575175eb2c4373cbe0a19b41be565bdd4d5cc997ef3569cd9d3841a9bd2c3 \
252317b79863b0a0ec050dcc3e2bc252c4dbd1e5051bcb5c9fed5411b6964e78 \
1b6fa3c8292eb893de30eb3f260974a0b8d89deda2c92da42d2235d59ec35cba