What is WTware?

For whom is WTware?

Why use Thin Clients?

Why choose WTware solution?
What is WTware?
WTware is a software Windows Terminal Services Client for diskless computer network boot, easy-configurable, undemanding to equipment and reliable.
Terminal (also known as Thin Client, Windows Based Terminal or NetPC) is a device for information input and display. Applications (Word, Excel or any other Windows application) are executed on the server, but a terminal user works as if he works at a computer that is as powerfull as the server. The peculiarity of modern applications is that you can connect dozens of terminals to one server, and users won't notice that the server is used by anyone else.
Terminal Services is a multi-session environment that provides remote computers access to Windows-based programs running on more powerful versions of the Windows Operating system. It is based on Microsoft's own RDP (Remote Desktop Protocol) and is known and widely used in the enterprises for accessing Windows desktops from remote locations.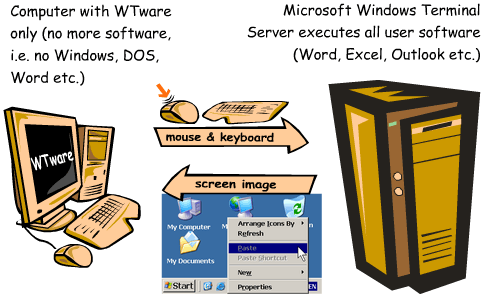 For whom is WTware?
For managers, willing to save money on the purchase of new computers, provided that it won't be to the prejudice of work effectiveness.
For Chief Information Officers, interested in making their enterprise IT-infrastructure more protected from internal and external invasions.
For system administrators, appreciating their time.
For users, that will really see changes in their computers processing speed and reliability.
Why use thin clients?
The main goal of terminals use is the TCO (Total Cost of Ownership) decrease. It is achieved by reduction of the solution deployment cost, simplification of system administration and increase of system effectiveness in whole.
Especially great results can be obtained from Windows Terminals deployment in such situations when large users groups exploit computers to perform single-type office or specialized tasks. E.g. operators rooms, office workplaces, school computer classes and many others.
Economy, protection of investments. You won't have to upgrade computers with the advent of new, more resource-demanding releases of the programs, used at your enterprise. In the case of computing recources lack just new terminal server should be added instead of every workplace upgrade.
Safety. Virtual elimination of viruses and data theft. The desktop's hard drive is bypassed, and access to floppy drives and internet software can be restricted, so the system security level increases.
Data storage centralization. The failure of any terminal won't lead to data loss, since all data is stored on the server. Centralizing data storage allows for faster and easier backups and disaster recovery.
Reliability. All applications are performed on the server. Server Operating System is more secure and more reliable than desktop OS.
Manageability. Server-based computing centralizes the system administration. A single point of administration reduces overall administration costs and lower maintenance time. Administrator can perform upgrades or installs new applications on the server without visiting individual workstations. Users can't influence the software stable work from their workplaces. User can't install new software without administrator control.
Why choose WTware solution?
Common Thin Clients solutions:


Buy IBM (HP, WYSE etc.) hardware Thin Client


Install Windows 98 and run Microsoft Terminal Services Client


Install DOS and run Terminalsoft DOSRDP client


Install DOS or Linux and run Citrix ICA-client


Install Linux and run free Terminal Services Client (rdesktop)


Use free solutions for diskless terminals (Thinstation or PXES)


Install WTware
Why choose WTware instead of hardware Thin Clients (IBM, HP, WYSE and others)?
WTware can work on existing computers. You can use your old hardware instead of buying new one.
WTware can work on all your computers. Administration of the computer park, that works with the same software, is much easier than administration of mixed computers.
New hardware for WTware terminal will be cheaper to buy than a brand hardware Thin Client.
Why choose WTware instead of running standart Microsoft Terminal Services Client on Windows 98?
Windows installation can take some hours, while WTware terminal can be configured in several minutes. It's extremely important if you should urgently replace a computer disabled due to hardware problem.
WTware terminal doesn't use hard disks. Even an advanced user won't install any software, game or infect a WTware terminal. Also hard disks are the main reason of computer failure.
Why choose WTware instead of running Terminalsoft DOSRDP client on DOS?
DOSRDP is a slow client. It runs on 486s, but sometimes works too slowly even on Pentiums.
For the majority of modern computers (especially for released in the last five years) it's impossible to find DOS drivers.
Why choose WTware instead of Citrix ICA-client?
Citrix is extremely expensive. A client license for every Citrix connection costs about three times more than a client license for Microsoft Windows Terminal Services.
Any Citrix client requires installed OS on a terminal.
Why choose WTware instead of open-source rdesktop on Linux?
WTware is a mature solution, tested by thousands of users. Just specify server address and WTware will work. No Linux knowledges are needed for terminal tuning. WTware intended for Windows-administrators. Terminal configuration process is well-documented.
rdesktop is just a Linux program. So firstly you should install Linux, then configure X-Window, specify network parameters, setup printer and perform many easy but necessary actions to create more or less convinient workplace. System administrator should have deep Linux knowledges to cope with all the problems that will apear on every step. It will take several days even for a specialist.
Why choose WTware instead of free Linux-solutions for diskless terminals (Thinstation or PXES)?
WTware is a commercial off-the-shelf software. Just download it, unpack and run. It needs no pre-compilation unlike Thinstation.
WTware is easy to configure. All configuration is stored in a single well-documented text file. WTware intended for Windows-administrators, that will never have to deal with Linux features. In practice large scale using Thinstation or PXES inevitably leads to modification of Linux-scripts.
There is technical support team for WTware users.
WTware is the most undemanding to hardware. It works even on 486/8Mb RAM.
WTware product is well-documented.
WTware is simply the best. Try, it's really simple! And if you managed to read up to this point, write to WTware licensing service and get one free WTware license for firmness.